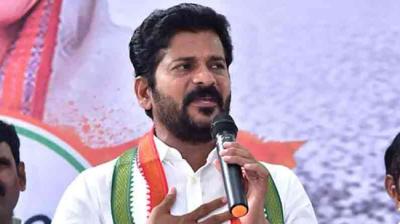 If one thought that the dissidence has died down and all is well in the Telangana Pradesh Congress, one may be in for a surprise. It appears that all the leaders are not reconciled to Revanth Reddy's appointment as the TPCC chief. Two key leaders from North Telangana - Jeevan Reddy and D Sridar Babu, have given a miss to the key strategy meeting on Huzurabad bye-elections.
On Wednesday, the Congress organized an important meeting to discuss Huzurabad issue. Election Coordination Committee chief Damodara Rajanarsimha, working presidents Mahesh Goud, Jagga Reddy and Anjan Kumar Yadav and former MP Ponnam Prabhakar Goud were present at the meeting presided over by Revanth Reddy. But both Jeevan Reddy and Sridhar Babu, who were appointed as the coordinators for the Huzurabad bypoll, stayed away from the meeting.
Sources say this appeared to be a deliberate act as both the leaders were present in Hyderabad on Wednesday. While Jeevan Reddy returned to Hyderabad after a tour of Godavarikhani, Sridhar Babu was very much in Hyderabad. The absence of these two leaders is being considered significant as both are strong leaders from North Telangana and both were in the reckoning for the PCC chief post. In fact, Jeevan Reddy is upset over the way the High Command has initially asked him to head the PCc and then backtracked. Sridhar Babu was not given any key post in the PCC.
The Congress Party has not yet decided on the candidate for the Huzurabad bypoll. Its strongest contender Kaushik Reddy has joined the TRS and has been made an MLC in governor's quota. The party has no candidate as of now.