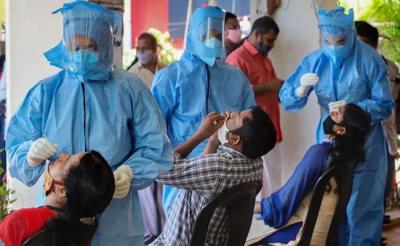 The ongoing Coronavirus pandemic continues to ring the danger bells in India with the country maintaining a steady growth in fresh infections.
India reported a rise in the fresh Coronavirus infections for the fifth consecutive day. More than 40,000 cases were reported in the past 24 hours.
Going by the data shared by the union health ministry, as many as 41,831 more people were infected with the virus.
With the addition of the fresh cases, country's total toll has mounted  
to 3,16,55,824.
After 541 patients lost their battle to the respiratory disease, the total Covid deaths reached 24,351.
Despite the country seeing a growth in new infections, the national recovery rate is over 97 percent at 97.36.
The total number of tests to detect the virus across the country had reached 46,82,16,510, including 17,89,472 tests that were conducted on Saturday.