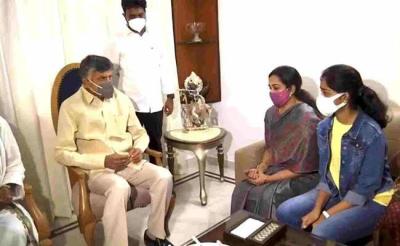 TDP Senior leader, former Minister Devineni Uma Maheshwara Rao was arrested earlier this week on the grounds of rioting. He and his followers were sent to 14-day judicial custody by the Mylavaram Court.
Former AP CM and TDP Supremo Chandrababu Naidu who earlier condemned Devineni Uma's arrest met his kin today. He consoled the family members of the former Minister.
Alleging that the Andhra Pradesh government had targeted Uma as he reportedly highlighted the illegal mining, Chandrababu Naidu said the ruling YSRCP is low on confidence to win the 2024 elections and that's why they are doing all these activities.
Adding further, Chandrababu Naidu said that, in the future they will give it back to the YSRCP leaders, who are targeting the TDP leaders.
Former IT Minister, TDP national general secretary Nara Lokesh who accompanied CBN during his visit to Devineni Uma's house alleged that the illegal mining works are getting exposed slowly.
Nara Lokesh aka Chinna Babu alleged that CM Jagan's relatives are mining bauxite in the name of laterite.
Devineni Uma was arrested along with his few supporters in Gaddamanugu after the TDP supporters and YSRCP supporters clashed with each other.
He was arrested on the allegations of rioting and criminal conspiracy after video of TDP followers reportedly attacked a Dalit leader and damaged his house.
It has been widely reported that the cops got the evidence that proves that the TDP supporters were behind the clashes that took place at Gaddamanugu.
Later, the former Minister who alleged that stones were pelted at him and other leaders protested against this in his car.
With things escalating quickly, Devineni Uma Maheshwara Rao was arrested by the cops and produced before the court. While clearing the mob and arresting Uma, a few policemen sustained injuries reportedly.
The Police said that the entire episode was planned and the violence was executed.
In total 18 people were arrested by the police. Devineni Uma and 17 of his followers.The cops booked a case against the accused on the charges of attempt to murder, charges pertaining to the SC and ST Prevention of Atrocities) Act.