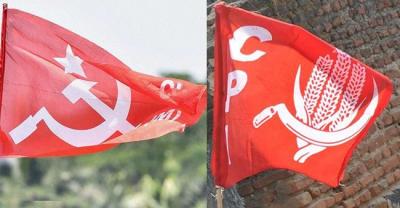 The ruling TRS is leaving no stone unturned in Huzurabad. It is as if the whole governance and politics are focused on Huzurabad. The TRS is ensuring that every single vote counts. It is determined to defeat Etala Rajendra in the bypoll whenever it is held. Several ministers, MLAs and other key leaders of the TRS are camping in the constituency these days.
As part of its electoral strategy, the ruling TRS wants to get the Lefty party votes into its account. Huzurabad always has a loyal CPI and CPM voters. Though the party doesn't have enough votes to win the elections it sure does have enough votes to affect the electoral margins. Hence the TRS wants to ensure that the Left votes, which come to around 4000 to six thousand, do not go to Eatala Rajendra. If sources are to be believed, the TRS leaders are already in talks with the Left Party leaders from both the CPI and the CPM to ensure that their votes fall into the TRS kitty.
The TRS feels that if the Left parties put up their candidate, these votes will go to them. But, if there is no Left candidate, these votes will go to the TRS. The anti-BJP stance of the Left parties will make them vote for the TRS only. So, they want the same arrangement that the Left and the TRS had for Nagarjunasagar bypolls to be implemented in Huzurabad too.
In Huzurabad, the CPI and the CPM have openly extended support to the TRS. During this period, the RTC strike was on. Hence there was opposition from the Left Unions to the CPI and CPM stand. So, the state leaders had left the decision to the local leaders in Nagarjunasagar. The local leaders had extended their support to the TRS and helped it indirectly. A Similar strategy would be employed in Huzurabad too, sources said.  A margin of 4000 to 5000 would prove very crucial in a close fight, they said.