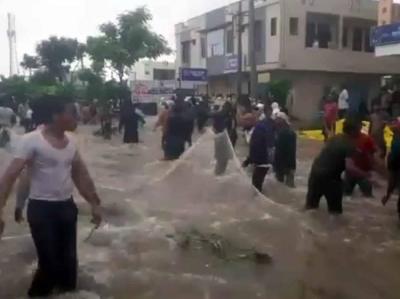 Telangana is suffering from the continuous rains and the India Meteorological Department (IMD) warned that the state might witness rains for four more days.
Compared to the other districts, the Nirmal district is hit very hard by the rains leaving the roads and colonies filled with rain water.
The water level on the roads has reached a level that the locals are fishing on the roads. The videos and pictures of locals in Nirmal running to catch the fishes went viral on social media platforms.
With the district receiving high rainfall that the level that is reported usually, the Telangana government swung into action and the rescue teams were deployed in the district.
As a result of the heavy and continuous rains , the reservoirs and water bodies saw the water levels growing up gradually.
The other region that recorded a heavy rainfall was the Siricilla district. The rainwater entered the colonies causing trouble to the residents.