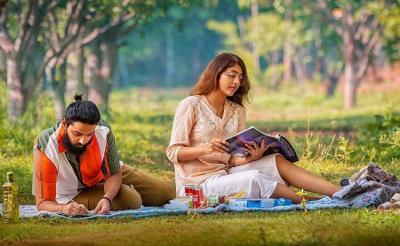 Veteran producer MS Raju who was known for bankrolling tasteful love stories 'Varsham', 'Nuvvothanante Nenoddantana', 'Manasantha Nuvve', 'Aata', 'Pournami' and others has always had a knack for picking up good subjects. MS Raju himself penned the story for his production ventures at times. He turned into a director for his son Sumanth Ashwin's debut film 'Tuneega Tuneega'.
After the huge success of 'Dirty Hari', senior filmmaker MS Raju has once again put on his director's hat for a new-age love story titled '7 Days 6 Nights'. The first look poster came out and it seems like one of the lead pairs went to a picnic. While Sumanth Ashwin is writing something while lying on the floor, heroine Mehar Agarwal is sitting and reading a book. The greenery around them, the diet cokes and other stuff make it clear that they are on a romantic trip.
But they look distant from each other and the film explains the reason why. 'Days 6 Nights' is going to have fantastic visuals and a tight screenplay. Presented by Mega Banner Sumanth Art Productions, S Rajnikanth and M Sumanth Ashwin are producing this movie under Wild Honey Productions, Vintage Pictures and ABG Creations.
The film reportedly wrapped up an outdoor schedule and sources reveal that it will be hitting the screens on the 2nd week of September.
Fresh talents Rohan and Ritika Shetty are the other lead. The chemistry among the lead pairs is going to be very fun as per reports. Sushma and Rishika are given important roles while 'Middle Class Melodies' game Goparaju Ramana will be seen in a special role. Let us see how this breezy flick turns out.