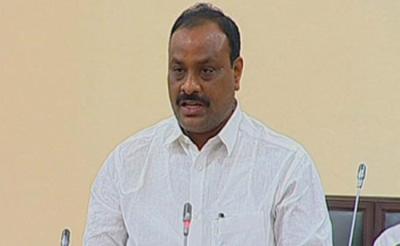 The ruling YSRCP has prepared a fool-proof plan to corner the TDP. This strategy, according to the YSRCP insiders, is a double-edged sword and would put the TDP on the mat. It will directly attack Atchen Naidu, who is the president of the AP state unit of the party.
AP Assembly's privileges committee has served notices on Atchen Naidu. He has been asked to present himself before the committee and face its questioning. Committee chief and MLA Kakani Govardhan Reddy said that the notices were served on Atchen Naidu for making statements on the floor of the house with an intention to mislead the members. This has breached the privileges of the members of the house, he said.
The YSRCP wants to apply the same rules that the TDP had applied to Nagari MLA Roja while Chandrababu Naidu was in power. Roja was suspended from the house for a period of one year and the TDP used this to silence one of the strongest voices of the opposition. It has also marginalised Roja in the assembly. The YSRCP now wants to use the same forum to stymie Atchen Naidu.
The YSRCP feels that if Atchen Naidu refuses to appear before the Privileges Committee, it would be projected as lack of respect for the rules of the house. A key TDP leader would be shown as an irresponsible legislator. If he appears, he would be handed out a punishment and would be silenced. Both ways, it is win-win, feels the ruling YSRCP. It remains to be seen whether the TDP stands by Atchen Naidu the way it stood with him in the ESI scam case or forsake him. If the TDP forsakes him, it would become a handy stick for the YSRCP to beat Chandrababu Naidu. If it stands, then the whole of the TDP would be projected as an irresponsible party with no regards for the rules.