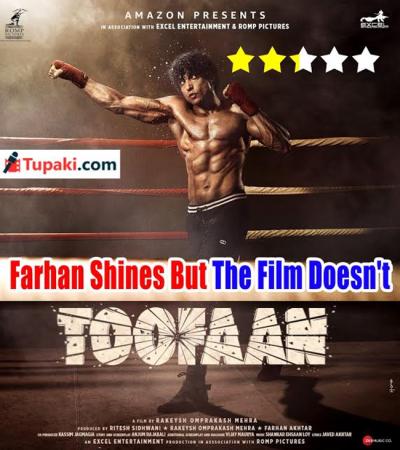 'Toofan' Movie Review
Cast: Farhan Akhtar, Paresh Rawal, Mrunal Thakur and others
Writer: Anjum Rajabali
Director: Rakeyshi Omprakash Mehra
Producers: Ritesh Sidwani, Farhan Akhtar & Rakeysh Omprakash Mehra
Music: Shankar-Ehsaan Loy
Cinematography: Jay Ozha
OTT Platform: Amazon Prime Video
Known for his special films like 'Rang De Basanti' and 'Delhi 6', acclaimed director Rakeysh Omprakash Mehra has teamed up with Farhan Akhtar for another sports drama titled 'Toofan'. Farhan will be seen as a small-time con in the streets of Dongri who becomes a boxer. With the Olympics coming soon, this sports drama with a boxing backdrop has drawn a lot of attention. Especially, this movie is coming from the hero-director duo who gave a super hit like 'Bhaag Milkha Bhaag' back in 2013 which brought in a lot of expectations. Let us have a look at how 'Toofan' turned out!
Story:
Ajju Bhai (Farhan Akhtar) is goon who makes a living out of punching people in Dongri area of Mumbai. He has a heart of gold and his life takes a turn when he meets Ananya (Mrunal Thakur) who demands him to live a life with respect. He decides to become a boxer and trains under Nana Prabhu (Paresh Rawal) who is a arch Hindu and an anti-Muslim. Things take a turn when he was forced to leave the boxing ring. Why did he leave boxing which he loved so much? What will happen after he makes a comeback? What is the situation of Aziz's love life and his relation with his teacher? The answers to all these questions form the crux of the story.
Analysis:
The teaser of 'Toofan' packs a punch and raises the curiosity of the audience. The movie lovers hoped that the 'Bhaag Milkha Bhaag' duo might come up with something fantastic once again but they were quick to realize that it may not happen after the release of its trailer. It gives away the entire story and even reminds us of 'Sultan' vibes but with a different cast. People were skeptical before the movie came out and all their concerns came true.
'Toofan' has some good moments but they are bogged down by the uneven narration and over-dramatic scenes. When people like Farhan Akhtar and Paresh Rawal are a part of this film, we expect some real emotions and touching moments that make you attached to the story. But that is not the case. Right from the word go, it runs on a predictable note and despite some brilliant acting from the lead cast, you cannot help but feel that there is something missing.
'Toofan' was supposed to be the story of an underdog who comes from the streets and achieves big in the world of boxing. No matter how many times we see such films, people root for the lead character and celebrate the hero's success. But that did not happen in 'Toofan' as the boxing story was dominated by the dramatic dialogues, the hero's religion becoming a problem for his trainer who is also the father of the heroine and other issues. Films like this heavily depend on the storytelling and it is where the film falls flat.
Even in the boxing thread, there are no surprises as Farhan goes winning one match after the other without any hurdle and shades of Salman Khan's 'Sultan' is clearly visible at times. While the lead actors score brownie points for their efforts to lift the proceedings, it is the director Omprakash Mehra who lets them down big time.
Barring the good performances, top-notch technical quality and some good moments, 'Toofan' fails to impress.
Performances:
Farhan Akhtar went through a lot for the role of Aziz Ali. His physical transformation is applause-worthy and it shows his dedication. He pushed himself to achieve the six-pack look and then became fat just to look natural in the role. He managed to move the audience at times with his emotional performance. He is quite lovable in the romantic episodes but his 'Tapori' accent leaves a lot to be desired.
Paresh Rawal once again delivered a very good performance. The legendary actor makes succeeds in doing justice to his character and some of his scenes standout. Mrunal Thakur looks cute and did a perfect job in becoming the moral compass for Farhan's role. Her chemistry with Farhan Akhtar is a delight and she is surely an actor to watch out for. The rest of the cast are decent and played their parts well
Technicians:
The cinematography looks very good and appears quite raw and realistic. The lighting used reminds us of 'Gully Boy' at times but it is bound to happen as the same DOP worked on 'Toofan' too. The visuals definitely have helped the narration. Music by Shankar-Eshaan-Loy was good but their placement was a bit odd. The background score lifts the proceedings at times but sounds quite over-the-top and dominated the scenes on some occasions. The artwork is splendid and the production values by Excel Entertainments are adequate.
Director Omprakash Mehra disappoints the audience. His overstressing on some unnecessary elements and his predictable narration spoiled what would have been a successful sports drama. There are times when you wonder if he is the same director who made heart-touching films like 'Rang De Basanti' and 'Bhaag Milka Bhaag' or not. Hope he regains his lost magic touch soon.
Verdict: Toofan - Farhan Shines But The Film Doesn't.
Rating: 2.25/5