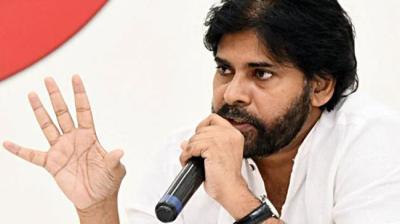 Will Pawan Kalyan find a place in the Union Cabinet? Rumour mills are abuzz with the talk of Jana Sena chief Pawan Kalyan being made a minister at the Centre. The rumours gained currency amid reports that Narendra Modi is planning to reshuffle his cabinet.
While the BJP in AP does not have any MLA from AP to vote for Pawan Kalyan, there is a buzz that he could be made a Rajya Sabha MP from Karnataka quota. But, as of now, there are no elections to Rajya Sabha. Hence the talk that Pawan Kalyan could be made a Rajya Sabha MP.
Meanwhile, several key BJP leaders like former Assam CM Sarbananda Sonowal, former Bihar deputy CM Sushil Modi and former union minister Jyotiraditya Scindia are likely to be inducted into the cabinet. Similarly, BJP leader from Odisha Bijayanta Panda too could be made a minister. The BJP currently has 21 cabinet ministers, 19 deputy ministers and 9 ministers with independent charge. There are around 25 vacancies in the cabinet. Modi is likely to offer some ministries to the NDA partners too.