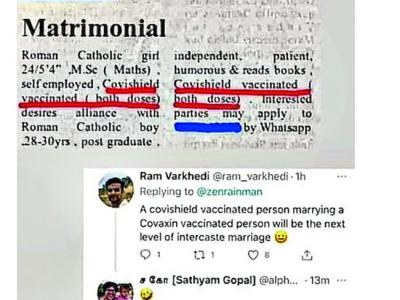 The ongoing novel Coronavirus has been ringing the danger bells. The Covid related situations have become more problematic since the emergence of the second wave. Given the prevailing situations, vaccinating the people became the only solution to beat the virus.
However, people still have comprehension about taking the Covid-19 vaccine. A girl took her comprehension of the vaccine doses to a whole level by giving a matrimonial award that those who took the particular dose should apply.
In a matrimonial advertisement, a girl had clearly mentioned that she is looking for an alliance who has received the two doses of the vaccine. The ad took social media like a storm.
Looks like getting vaccinated against the pandemic will be the new norm to get a match and tie the knot. The new norm will surely result in youths taking the vaccine dose.