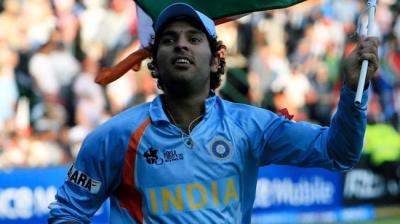 Indian cricket fans can never forget the year 2007, as team India had lifted the T20 World Cup by defeating the arch-rivals Pakistan in the finals in the nail-biting thriller. The tournament marked former skipper MS Dhoni's era as captain.
Former Indian player Yuvraj Singh in a recent podcast had shared interesting comments behind the T20 captaincy and said, he was expecting the captaincy, but MS Dhoni was named as the skipper.
Recalling India's poor outing in 2007 50-over World Cup performance, Yuvraj Singh said, the tournament caused turmoil in the Indian camp and the senior players thought of taking a break and nobody took the T20 Word Cup seriously.
"I was expecting to captain India in the T20 World Cup and then it was announced MS Dhoni would be the captain. Yes, obviously, whoever becomes captain you got to support that guy, whether it was Rahul (Dravid), whether it was (Sourav) Ganguly, whoever in the future, at the end of the day you want to be a team man and that's how I was," he maintained.
The left-handed batsman said India entered the T20 world cup without any strategy. As it was the first tournament, no one had an idea about the T20 strategies, he said.