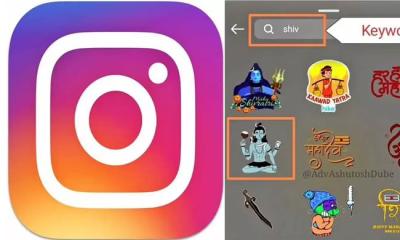 America-based social media giant Instagram has hit the headlines for the wrong reason, after an FIR was filed in the national capital Delhi, on the grounds of disrespecting the sentiments of Hindus.
The controversy was started after Instagram added a new sticker of Lord Shiva, that shows the god in an objectionable manner. The sticker depicts Lord Shiva holding a wine glass.
A person named Manish Singh, a resident of Delhi has filed a lawsuit against the photo and video sharing app in this regard. The complainant opined that for hurting the sentiments of Hindus, a complaint should be registered against the CEO of Instagram.
Taking to Twitter, the netizens are showing their anger against the social media platform for inappropriately depicting Lord Shiva. A section of netizens is batting for the demand to take strict action on Instagram.
The new development comes after Google and Amazon landed in a controversy. Bikinis with the Karnataka flag and emblem appeared on Amazon for sale. Google showed Karnataka as a result when searched for the ugliest language in India.