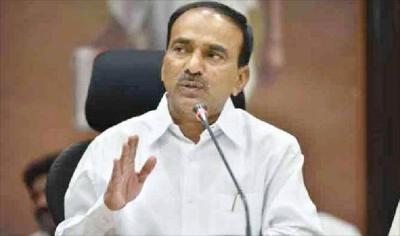 Who is most worried by the moves of Etela Rajender? Not TRS, nor BJP and not even the Congress party. The TRS is not worried because it is firmly in saddle. The BJP and the Congress have nothing to lose as they are already down in the dumps. So, who is worried by the advent of Etela Rajender? YS Sharmila is most worried these days.
And why is Sharmila worried by Etela Rajender's political moves? Etela's sudden arrival has upset the political calculations of YS Sharmila. In fact, Sharmila had realised that there was a political vaccum in Telangana as there is no representational party for all those opposed to the TRS and KCR rule. The Congress, which is beset with groupism and defections, is not in a position to take on the TRS. The BJP too has been on the downslide and has failed to project itself as an alternative to the TRS. Given this situation, Sharmila  felt that she would be able to draw anti-TRS and anti-KCR elements and the Reddy community into her fold. But, Etela, who is equally popular among the BCs and Reddys has upset her calculations. Not only is he popular, he is also from the Telangana background. He doesn't carry the baggage of pro-Andhra party that Sharmila carries.
Several leaders, who were holding parleys with Sharmila, are now seen moving closely with Etela. Some have extended their support only and many others are extending their tacit support. Ever since Etela dawned on the firmament, Sharmila was much in demand. Now, Etela has effectively pushed her to the background.