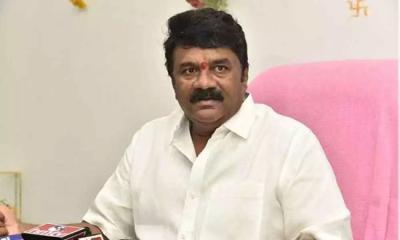 Telangana Minister Talasani  Srinivas Yadav had an excruciatingly tough  time the other day when the media correspondents bombarded him with inconvenient questions. The utterly unprepared minister, who fumbled for the answers, lost his cool and asked for the mikes to be switched off to hide is discomfiture.
On Monday, Talasani reviewed the Corona position and relief measures under the jurisdiction of the GHMC for over two hours at the GHMC office. He met the media scribes later to brief them about the review meeting. The minister came fully prepared to launch a tirade against Secunderabad MP Revanth Reddy, who was stopped from distributing food to the relatives of the Corona patients. But the media had other ideas. It started shooting questions about the details of the fever survey and about the number of Covid patients identified during the survey.  They also asked the minister about the shortage of beds in the major hospitals and about the failures of the GHMC. The scribes also asked the minister as to how the government was reining in the private hospitals, who were charging as high as 28 lakh per patient.
The minister was unprepared for this barrage of questions. He fumbled for answer and soon became aggressive. He said the mediapersons did not know how to ask questions. When he realised that the media was recording even these remarks, the flew into a rage and ordered that the cameras be switched off. The minister beat a hasty retreat as the mikes were switched off.