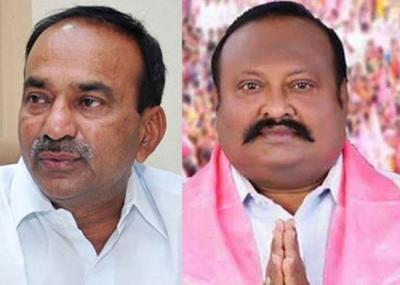 While the whose state is in the grip of Covid crisis, an entirely different drama is playing out in Karminagar's Huzurabad. The TRS faithfuls and Etela Rajender's supporters are fighting a battle for supremacy. While Etela is trying to retain his supporters, the TRS, led by district minister Gangula Kamalakar is going the whole hog in weaning supporters away from Etela.
No wonder, Etela on Saturday specially targeted Gangula Kamalakar saying that Gangula was trying to wean away his supporters just as a wolf tries to attack sheep. He said Gangula was threatening his supporters with dire consequences if they did not leave Etela and join TRS camp. He also released a video to support his contention. He said while CM KCR has asked the ministers to take care of the Covid situation in their respective districts, Gangula has done nothing on that front. "He is trying to poach on my supporters, " Etela claimed.
He said that the sarpanches were being threatened with dismissal, stoppage of bills and were being lured with monetary gains. He said the permission of the schools belonging to his supporters were being cancelled. He said the people will teach a fitting lesson to such unscrupulous leaders.
Meanwhile, Illindakunta MPP S Pavani Venkatesh, deputy chairperson A Jyotsna, sarpanch K Srilatha, several sarpanches, MPTCs and others met Etela Rajender on Saturday and extended their wholehearted support to him.