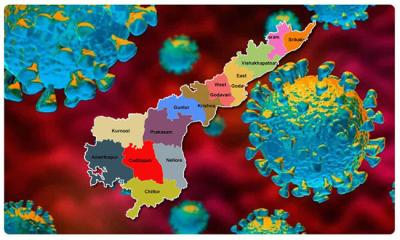 A devastating situation continues to prevail in Andhra Pradesh, as the state continues to report an average of more than 20,000 new Covid infections. On May 15th too, over 20k cases were reported.
In the last 24 hours, as many as 89,535 samples were tested and 22,517 more people were found positive for the deadly respiratory disease, the health bulletin issued by the government said.
The new addition of 22,517 Covid cases has pushed the total infections in the state to 14,11,320. After 18,739 patients were declared cured of the virus in 24 hours, the total recoveries rose to 11,94,582.
Looking at the fresh cases, East Godavari topped the list with 3,383 single-day cases, followed by Anantapuram(2,975), Chittoor(2,884), Visakhapatnam( 1,984), Guntur, and Prakasam with 1,750 and 1,305 cases respectively.
Maintaining a steady growth in active cases of the pandemic, the active cases stood at 2,07,467. Andhra Pradesh is one of the states that contain more than 2 lakh active Corona infections.
The rise in daily Covid fatalities is a major concern to Andhra Pradesh. A close 100 Covid fatalities were recorded on May 15, after 98 patients have breathed their lost battling the deadly virus. The total Covid fatalities rose to 9,271.