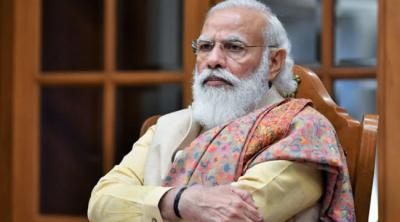 The whole national political discourse is fast getting focused on Prime Minister Narendra Modi. Will Modi be the BJP's face as the prime minister in 2024 elections? Will he get replaced by someone else? Is a strong section of the BJP and the RSS beginning to feel that Modi is more a liability than asset now?
Modi was indeed a game-changer and a national hero in 2014. From being Gujarat CM for 12 years, he became the PM candidate of the party in 2014 elections. Through ingeniously devised programmes such as Chai Pe Charcha, he had caught the image of the public at large. He not only presented an alternative leadership, but also challenged dynastic politics. He projected a tough image as a go-getter and a determined leader. Even in 2019, the same image carried the day and Modi was elected with a bigger majority. But, the recent results of the five state assemblies and the massive defeat in West Bengal have led to a re-think in the BJP. The RSS too is beginning to feel that Modi is fast losing his popularity. His aura of invincibility has been seriously dented in West Bengal, where the party talked about forming a government but ended up with less than 100 seats.
A section in the party is now questioning the idea that Modi and Amit Shah are supreme leaders. They feel that the duo had even managed a few pre polls and opinion polls to create an impression that the BjP would win 160 to 200 seats. This section is beginning to feel that the party is trapped in the hands of Modi-Shah duo. Hence, there are dissenting voices within the party.  They are looking at an alternative to Modi. Union Minister Nitin Gadkari is one such name floating in the air. Voices in and out of the BJP are saying that by 2024, Modi may not be projected as the PM candidate as there is no Modi wave in the country anymore.
Let's wait and see how the political drama unfolds in the BJP.