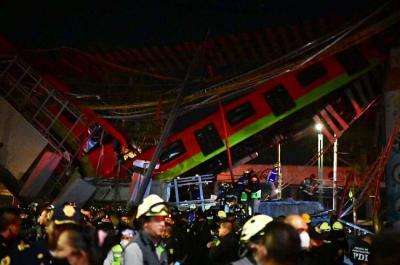 In a horrific turn of events, thirteen people died, while 70 victims sustained injuries after an overpass that carried metro train cars had partially crashed on the cars traveling on roads.
The shocking incident took place in Mexico City. The overpass had partially collapsed onto the cars causing casualties and injuries. A few local channels have aired the visuals of the overpass collapse.
After the incident, the concerned authorities have called for rescue operations. The firefighters and medical support have rushed to the spot to save the victims.
Mexico City mayor Claudia Sheinbaum reached the spot after the news broke out. After reaching the spot, the Mayor said, the firefighters, safety staff are working at the spot. More information will be shared soon, he said.
The Metro 12 line in Mexico city collapsed. The overpass was nearly a decade-old one. Foreign Minister Marcelo Ebrard was the then-Mexico Mayor when the overpass was built.
Reacting to the incident, Marcelo Ebrard said it was a terrible tragedy. Saying that he will stand in solidarity with the victims and their kin, he said an investigation should be done to find out the cause of the incident.