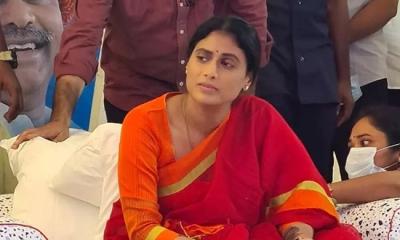 Corona safety measures, it appears, are not meant for the political class. Key measures like safe distance and usage of masks are being given a go by in political rallies and protection programmes. The case in point is the Thursday's dharma by YS Sharmila at the Indira Park protest area.
Not one leader, including YS Sharmila, her mother YS Vijayamma, wore the masks. They also threw the social distancing norm to winds during the dharna. A  large number of supporters, who thronged to see the spectacle, too did not wear masks. Not just that, they also sat without the mandatory social distancing. Even prominent speakers like BC leader R Krishnaiah and Left liberal leader Kanche Ilaiah did not put on the mask while sitting on the dais. Unfortunately, the leaders sat too close to each other. At a time when Corona infections are rising in the Telugu states, especially in Telangana, such meetings are not just unnecessary, but are also health hazards. Yet, no one seemed to have cared.
Even Sharmila was taken into custody, during which there were some action drama. All these are potential contact points. It may be recalled that at least 14 key campaigners in Nagarjunasagar bypolls, had tested positive for Covid. Despite that, they took an active part in the campaign of the ruling party. The same situation prevailed at YS Sharmila's protest programme.