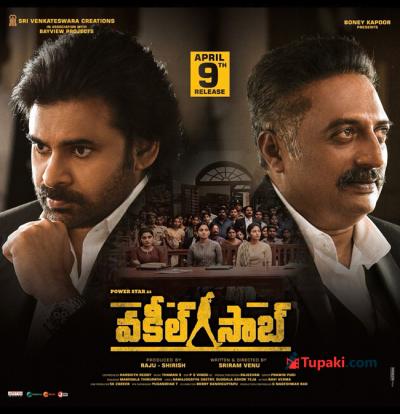 Movie Review: 'Vakeel Saab'
Cast: Pawan Kalyan, Nivetha Thomas, Anjali, Ananya Nagalla, Prakash Raj, Shruti Hassan, Vamsi Krishna, Mukesh Rishi and others.
Music: Thaman
Cinematography: PS Vinod
Story: Shoojit Sircar, Ritesh Shaw, Anirudh Roy Chowdhary
Dialogues: Venu Sriram, Tirupati
Producer: Dil Raju-Sirish
Direction: Venu Sriram
After a debacle like 'Agnyathavaasi', Powerstar Pawan Kalyan took a sabbatical from movies and focused on politics. He is now back again with a message-oriented film like 'Vakeel Saab' which is a remake of Hindi film 'Pink'. Directed by Venu Sriram and producer by Dil Raju, there are a lot of expectations and hype around. Let us see how it turned out.
Story:
Pallavi (Nivetha Thomas), Zareena (Anjali) and Divya (Ananya) are three young girls who came from different places to Hyderabad for doing jobs. While they were returning from a party, their car gets broke down and they seek the help of some boys who they knew before. Instead of helping, they try to take advantage of them and in this process, Pallavi injures Vamsi (Vamsi Krishna) who is the son of an MP. Enraged by this, Vamsi creates problems for Pallavi and even files an 'attempt to murder' case on her. The three girls find themselves in a huge problem and no one comes forward to help them. At this time, lawyer Satyadev (Pawan Kalyan) who left the practice a long time ago takes up the case and how he wins the case and saves the three girls from a critical situation forms the rest of the story.
Analysis:
'Pink' is a classic film which deals with a very sensitive subject in the most mature way. Tapsee delivered a brilliant performance and Amitabh Bachchan's subtle yet strong acting made it a film to remember for a very long time. When the Telugu remake of 'Pink' was announced with Pawan Kalyan as the lead, people were a bit speculative about it as they thought that his heroism may spoil the film's plot. Right from the title to the teaser, everything indicated the same thing and people almost came to a conclusion that 'Vakeel Saab' is surely going to commercialize a bold and beautiful film. But 'Vakeel Saab' did no harm to 'Pink' and the makers should be commended for that. Keeping the fights and elevations included to satisfy Pawan fans aside, the hard-hitting point in 'Pink' has been delivered with the same impact in 'Vakeel Saab' too. But the subtility in 'Pink' is replaced by aggression in 'Vakeel Saab' which suits Pawan's acting style. On the whole, the film was powerful and successfully delivered a strong message.
Films based on women's empowerment and their issues are usually presumed to be emotional and heavily dramatic in Tollywood but 'Vakeel Saab' stands apart in this aspect. This movie forces you to take a deep look at how we see women in our society and the writers of 'Pink' should be given the entire credit. But Venu Sriram should be appreciated for not destroying that essence and making you feel connected with the story. Much like the original, the courtroom drama is the major asset for 'Vakeel Saab'. The hearings and arguments between Pawan Kalyan and Prakash Raj are quite engaging and thought-provoking. Some scenes draw applause not just from fans but the common people too. It is not the mass scenes included for Pawan and his fans' sake but it is the courtroom scenes that makes your tickets worth.
It is no secret that Pawan Kalyan is not a great actor like Amitabh Bachchan. He cannot deliver a subtle and controlled performance like the veteran and this is where Venu Sriram was brilliant. Pawan is known for his attitude and aggression. These two factors of Pawan were exploited perfectly by the director and this change worked wonders for the film.
But the scenes that were included for the sake of fans were the ones that held 'Vakeel Saab' from becoming a perfect film. They looked a bit artificial and forced. The flashback episodes were out of place and the film which took off on a strong note was forced back down due to these scenes. But the film becomes interesting right when Pawan enters the court and the engaging content which starts before the interval goes on till the end. Pawan's star image has also benefitted this film and the star hero too used this film to infuse his political ideology into the public arena.
Performances:
Pawan Kalyan who made a comeback after three years manages to impress not only his fans but also the common audience. Though he appeared a bit ordinary in the first half and the flashback sequences, he recovered well and gave an impactful performance in the second half. People who thought that he might fall flat during the courtroom scenes were completely mistaken as he owned the character and did it sincerely with conviction. His attitude and aggression in the second half added a lot of weight to his performance.
Shruti Hassan did not make an impact and looked out of place in this film. Prakash Raj is one of the best actors in India and he proved it once again. He was the key factor in those courtroom scenes and his work elevated Pawan's performance too. Nivetha Thomas, Anjali and Ananya were natural and gave an emotional performance. They did complete justice to their characters. Vamsi Krishna suited well for the negative role and the rest were fine.
Technicians:
The biggest strength of this film is undoubtedly Thaman's music. The self-proclaimed fan of Pawan Kalyan did one of his career-best works. Songs like 'Maguva', 'Satyameva Jayathe' and 'Kadhulu Kadhulu' had a huge impact onscreen but it is his background score that lifted the entire proceedings. Thaman's intense and energetic BGMs have surely helped the film. PS Vinod's cinematography is amazing and despite being a courtroom drama, he managed to showcase his specialty in 'Vakeel Saab'. Production values by Dil Raju were top notch and the art director needs a special mention as the court set was very realistic and authentic.
Coming to the director Venu Sriram, he passed with flying colors. He successfully handled a star hero of Pawan's magnitude and that too with a sensitive subject like this. Some of the changes he made worked brilliantly but the flashback episodes failed to make an emotional impact. Except for a few hiccups, Venu Sriram did a good job in coming with a touching remake that has a mass hero in the lead.
Final Verdict: Vakeel Saab - Powerful Enough
Rating: 3/5
Disclaimer : This Review is An Opinion of One Person. Please Do Not Judge The Movie Based On This Review And Watch Movie in Theatre