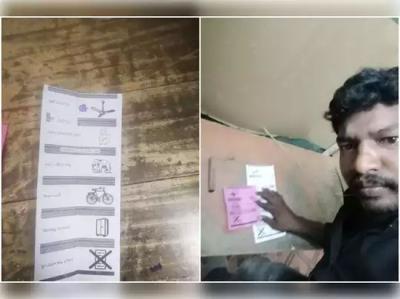 The highly anticipated  Mandal constituencies and Zila Parishad constituencies in Andhra Pradesh has started on Thursday. Several constituencies have reported high polling percent in polls.
However, some people showed their extra enthusiasm in casting their votes by sharing pictures of their votes on social media. They took selfies with ballot papers. The selfies went so viral that the issue went to the notice of Collector and election officials.
Following this, East Godavari Collector  D. Muralidhar Reddy said that the votes cast by people, who posted pictures of ballot papers will be declared disqualified. Strict actions will be taken against people who violate the election rules by posting pictures on social media.
Similar incidents were reported in other districts too. The concerned election officials said that these votes will also be treated as disqualified votes.
The MPTC and ZPTC elections were concluded at 5 PM today. In the Naxal-affected areas, the polling was allowed till 2 PM only. After the elections, the ballot boxes were shifted to strong rooms. The vote counting will take place once the High Court gives its green signal.