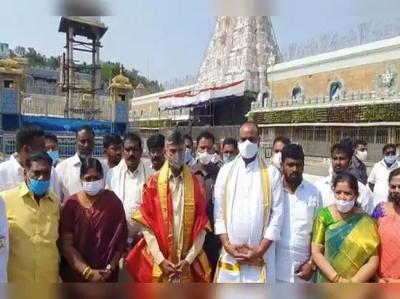 TDP chief, former Andhra Pradesh Chief Minister Nara Chandrababu Naidu visited the holy shrine of Tirumala and offered his prayers to the presiding deity. As per the protocol, the TDP boss received a formal welcome from the TTD officials.
Speaking to the media after offering prayers to the deity, Chandrababu Naidu made sensational comments and found faulty with Ramana Dikshitulu's comments, who was re-appointed as the head priest of Tirumala.
After the Jagan government appointed him back as the TTD head priest, Ramana Dikshitulu showered praises on CM Jagan and even called him Lord Vishnu.
"Finding fault with Ramana Dikshitulu's comments, Chandrababu Naidu asked how come a person can be compared to Lord Vishnu. It is not appropriate to draw a comparison between a person and a god", Chandrababu Naidu said.
Adding further, Chandrababu Naidu opined that a person like Ramana Dikshitulu who made sensational allegations like Pink Diamond should not be reinstalled as the head priest and by doing so, the sentiments of Hindus will be hurt, he said.
Calling Lord Venkateswara as his favorite god, Chandrababu Naidu said, God saved him from the 2003 Alipiri blast. I have prayed for the good health of the people in the state, he added.