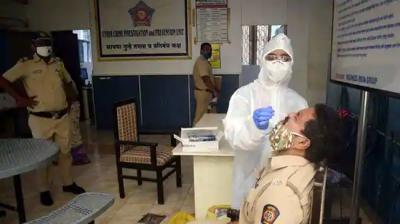 The Uddhav Thackeray-led Maharashtra government had imposed a lockdown in a few regions in the last week of February to curb the fresh infections. With no change in the situation, the lockdown was extended.
However, the fresh Coronavirus infections continue to rise in Maharashtra, despite the safety measures and restrictions in the state Around 10,000 new infections were recorded in the past 24 hours.
According to the information shared by the Maharashtra Health Ministry, the state recorded not less than 9,855 fresh infections in the past 24 hours taking the total toll of active cases to  82,343.
The rise in Covid-19 fatalities is also an area of concern for Maharashtra. In the past 24 hours 42 people breathed their last battling the virus in the state, the total fatality count rose to 52,280.
Maharashtra, which was the severely affected state in the country with the Covid-19 outbreak in September had managed to bring down the infections. However, fresh infections have been increasing in the state over the past few weeks. The authorities have also found two new strains in the state.
Looking at the recoveries, not less than  6,559 patients have been recovered and discharged from the hospitals in the past 24 hours. So far a total of 20,43,349 patients have been recovered with a recovery rate of 93.77%.