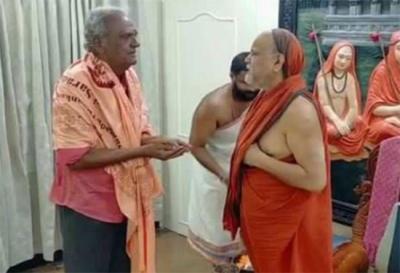 A self-confirmed atheist and CPI national secretary Dr Narayana had his tryst with spirituality the other day, when he called on Visakha seer Swami Swaroopananda. This perhaps is the first time a Left leader has openly met a saffron robed sanyasi.
He has met the Swami as part of the election campaign and sought Swami's support. The conversation too was interesting. Narayana said that he has heard that whosoever the Swami blesses goes on to win elections and added that he sought his blessings for the CPI candidate in Ward No 97 in Greater Hyderabad Municipal Corporation. For his part, the Swami graciously wrapped a shawl around Narayana's shoulders and welcomed him into the ashram.
Interestingly, Narayana later admitted that he had indeed gone to seek blessings for the Left candidate. 'There is a popular belief that Swamiji's blessings will ensure a victory for any candidate. So I went to seek his blessings for my party's candidate. He said there was no political angle behind his meeting with the seer. The Leftists consider religion as the opiate and shun religious people like hot potatos. But, Narayana proved to be different from the Leftists.