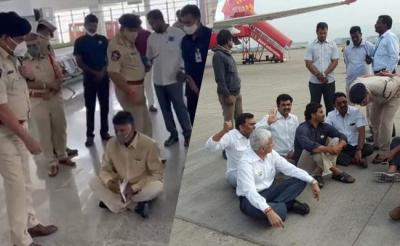 Telugu Desam Party president and former Chief Minister of Andhra Pradesh Chandrababu Naidu faced his dose of experience in Renigunta airport of his actions, he did when he was in power.
Going into details, Chandrababu Naidu made the arrangements to protest against the ruling YSRCP government in Chittoor. However, the cops told babu that he doesn't have permission to stage any protest.
When the cops stopped him, Chandrababu Naidu had a heated argument with the police. With no option left, Chandrababu Naidu staged a protest inside the Renigunta airport by sitting on the floor.
People who are aware of Andhra Pradesh politics had a flash of memory that traces back to 2017. Back then, Chandrababu was in power and YS Jagan Mohan Reddy was in opposition. Vice-versa to the present positions.
When YS Jagan Mohan Reddy was scheduled to stage a protest, he was stopped by the cops. Jagan sat inside the Airport as a protest against the then-ruling TDP government.
Cut to four later, the same scene was repeated in Andhra Pradesh. The cops gave the same reason to babu. Police even seized the mobile phones of the former Chief Minister, his assistants, and other people who were with him/
The Police said the TDP leaders don't have permission to carry out protests. Several TDP leaders were placed under house arrest by the cops as a precautionary measure, while few activists were detained.