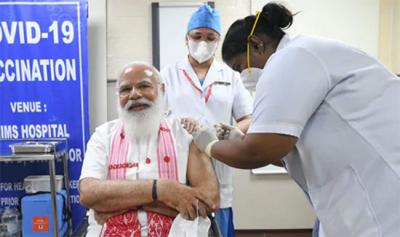 The second phase of the nationwide vaccination drive was started across the nation. In the second phase of the vaccination drive, people above the age group of 60 years and those who are above 45 years will be given importance.
Prime Minister Narendra Modi started the second phase of the vaccination drive by taking the vaccine dose. He was administered with the Covid-19 at Delhi's AIIMS hospital.
"Took my first dose of the COVID-19 vaccine at AIIMS. Remarkable how our doctors and scientists have worked in quick time to strengthen the global fight against COVID-19. I appeal to all those who are eligible to take the vaccine. Together, let us make India COVID-19 free!"  Narendra Modi's tweet reads.
Narendra Modi was administered Covaxin dose developed by Hyderabad-based Bharat Biotech. In the picture, the PM can be seen wearing a gamosa, scarf famous in Assam.
P Niveda, the main nurse who has been working at the Delhi AIIMS over the past three years gave the vaccine short for Prime Minister. She expressed her happiness in meeting Mr. Modi.
In the second phase of the vaccine drive, not less than 27 crore beneficiaries will be vaccinated with the vaccine. Private hospitals were also permitted to vaccinate the beneficiaries. They can charge Rs 250 per doe from the beneficiaries.
Covaxin, Bharat Biotech's vaccine dose landed in a controversy when the Drugs Controller General of India (DCGI) gave its nod to the vaccine dose for emergency use before the third phase of the vaccine trials.
To prove that the Covaxin dose is safe, Prime Minister Narendra Modi took the Bharat Biotech's vaccine. He will be administered the second dose of the vaccine after 28 days.