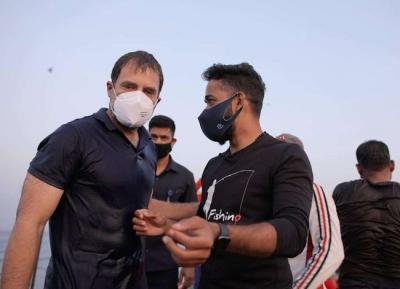 Congress Wayanad MP Rahul Gandhi who recently toured in God's own country Kerala and interacted with the fishermen community gave everyone serious fitness goals. Social Media was on fire after seeing Rahul Gandhi's fit body.
His pictures of flaunting abs a the wet dress after enjoying a good swim in the seawater took social media like a storm. Netizens showered praises on the MP for maintaining a fit body despite we were forced to stay indoors during the lockdown period.
Not only normal people, celebrities like silver medal-winning boxer Vijender Singh were also in awe of Rahul Gandhi's stunning abs. "Abs of a boxer… Most daring young fit & people's leader Way to go…" he tweeted.
With the picture of Rahul Gandhi going viral on social media, netizens requested the Wayanad MP to share some fitness tips with them on how to get abs like him.
Earlier this month, Rahul Gandhi's picture in formals inside the Parliament complex went viral on social media. Netizens declared the former Congress President as hero material.