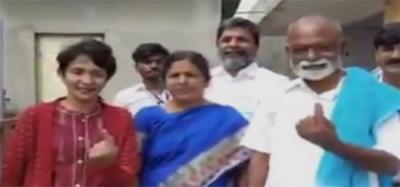 Time was when he was a minister and officials and security staff members were at his beck and call. Hundreds of fans flocked wherever he went. Gunmen and cavalcades followed him all the time. But the same man now looks every inch a commoner. He looks so simple that he is almost unrecognisable.
Meet Raghuveera Reddy, a former minister and many-time MLA. He was till recently  the president of the APCC. But of late, he has become totally inactive in politics. Reports said that he was into agriculture. During the recent panchayat elections, he surfaced albeit in an altogether unimaginable avatar. Raghuveera looked every inch a rural farmer. He was seen wearing a white Dhoti and a normal white shirt. Unshaven white beard made him look an ordinary farmer. He and his wife came to cast their votes in the panchayat polls. The couple came to the polling station in a moped.
He and his wife Sunitha cast their votes and interacted with the locals. They chatted away normally and left after voting. The most important thing is that the video of Raghuveera and his wife coming to the polling booth was shared by the former minister himself.
Raghuveera became a Congress leader in 1985 and won as an MLA in 1989 elections from Madakasira. He later worked as the animal husbandry minister. He was minister for agriculture during the YSR regime and a revenue minister in Rosaiah and Kiran Kumar Reddy ministries.