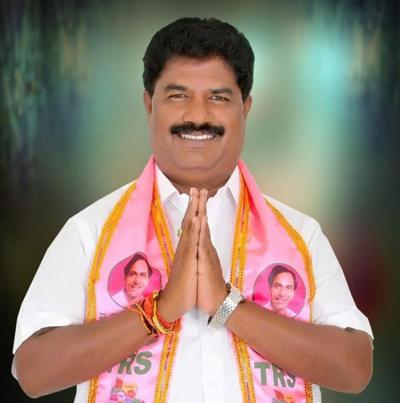 This MLA is a polyglot. He is fluent in many languages and converses freely with people from various linguistic backgrounds. Telangana's MLA from Jukkal constituency speaks fluent Marathi with the Marathis and in chaste Kannada with Kannadigas. He knows Telugue and speaks with equal felicity. He speaks in Hindi with Hindi speakers and in English with the officials.
Jukkal MLA Hanmanthu Shinde knows several languages and is at ease is speaking to people in their native tongues. There aren't many polyglots in the assembly. Hanumanthu Shinde is thus a rare piece. Jukkal being a border constituency, people speaking Kannada and Maharashtra are present in large numbers and Hanmanthu Schinde speaks to them in both the languages with great fluency. He also knows the Gor language, spoken by the Lambadi trivals.  That explains his popularity in the constituency. In several parts of the constituency such as Sopoor, Madnuru and Bichkunda, the people speak Marathi and even Marathi medium schools operate in this region for the past several decades.
Marathis feel he is their own. Ditto with the people speaking other languages too. But, when he speaks to the officials, it is either Hindi or English. The MLA is proficient in these languages tool  In border constituencies like Narayankhed and Narayanpet too similar situation exists. But, the respective MLAs are not as proficient with the languages.