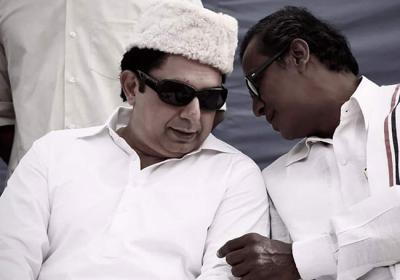 It is known that star actor Aravind Swami is playing MGR in Jayalalithaa's biopic Thalaivi, which stars Kangana Ranaut in the lead role. The first look poster of Aravind Swami as MGR was released last year and he resembled the former chief minister.
Now, a picture of Aravind Swami in MGR looks is going viral on social media. The monochrome picture shows the actor speaking to one of his close associates on a public platform. Fans whoever saw this picture are praising the makers of the film and Aravind Swami for the brilliant makeover. Not only the make-up, but Arvind Swami also gave gestures like MGR.
We are aware that MGR was the third Chief Minister of Tamil Nadu (1977) and continued in office till his death in 1987. He was the mentor figure to former CM Jayalalithaa and had established AIADMK, after resigning the DMK in 1972. After MGR's death, Jayalalithaa took over the party and finally become Tamil Nadu's youngest Chief Minister in 1991.