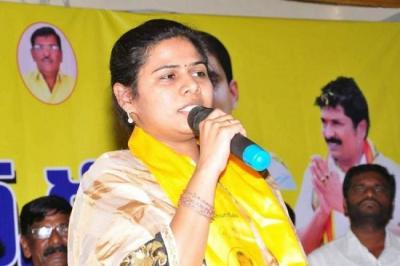 TDP leader and former Minister Bhuma Akhila Priya Reddy, who was arrested earlier this month in connection with the infamous Bowenpally Kidnapping Case got a sigh of relief with the court granting her bail.
The VIth Additional Metropolitan Sessions Court in Secunderabad has granted bail for Akhila Priya on Friday, after her lawyer moving the court to grant her bail taking her health condition into consideration.
Though she was granted bail on Friday, the former Minister was released from the Chanchalguda Jail on Saturday. The Sessions Court has granted conditional bail to her.She was granted conditional bail on the conditions of executing a bond of Rs 10,000 and surety signatures from two people.
Bhuma Akhila Priya got a grand welcome for her fans and TDP activists after reaching Allagadda. TDP activists from Allagadda and Nandyala welcomed the former Minister.While granting bail, the Sessions Court directed Bhuma Akhila Priya to appear before the Bowenpally Police Station every 15 days to sign in the PS.
The cops have named Bhuma Akhila Priya as A1 in the Bowenpally kidnapping case, claiming that she has planned the kidnap and was the mastermind behind the plan.