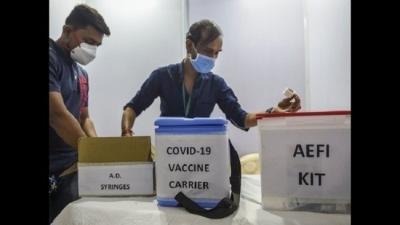 To curb the Coronavirus infections in India, Prime Minister Narendra Modi launched a nationwide Coronavirus vaccination drive on Saturday virtually. More than 3,000 vaccine centers were picked across the states for the vaccine drive.
The Union Health Ministry issued directives and advisory for the beneficiaries for the vaccination drive and urged the beneficiaries to strictly follow the advisory without any fail.
The Ministry advised the beneficiaries to take at least one hour rest after taking the vaccine dose so that, the doctors at the vaccine site can monitor the beneficiaries if they developed any adverse effects.
As part of the arrangements for the vaccination drive, every vaccination site will have three rooms, a waiting room, a vaccination room, and an observation room.
The Health Ministry said it's mandatory for the beneficiaries to not immediately leave the vaccine centers as there is a chance of the people developing some reaction after taking the vaccines.
The vaccine doses might cause reactions like headaches, fatigue, chills, and arthralgia in the body, and nausea. To treat the patients for such symptoms, the ministry urged the people to follow the advisory.
The Health Ministry has also urged the people to follow the Covid-19 protocols like wearing face masks and maintaining physical distancing at the vaccine centers.