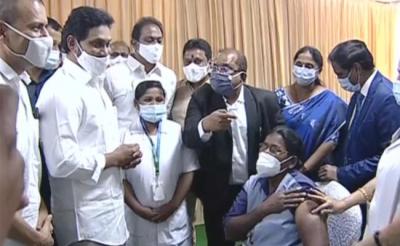 As part of the nationwide mega Coronavirus vaccine drive, the program was kickstarted in Andhra Pradesh too on Saturday across 332 vaccination centers across the state.
B. Pushpa Kumari who works as a sweeper in the Health Department in Andhra Pradesh received the first vaccine dose at the Vijayawada Government General Hospital(GGH).
YSRCP chief and Andhra Pradesh Chief Minister YS Jagan Mohan Reddy was present when the Health department sweeper B. Pushpa Kumari was given the vaccine dose, the first dose in the state.
Andhra Pradesh has procured vaccine doses manufactured by two Indian pharma companies Hyderabad-based Bharat Biotech, Covaxin, and Pune-based Serum Institute of India, Covishield 20,000 and 4.7 lakh doses respectively, reports claimed.
As per the media reports, 33,200 health care workers across the state will be given the vaccine dose per day in 332 vaccine locations. The vaccine doses have already been supplied to the vaccine locations.
Elaborate arrangements have been made at the vaccine centers.2,324 medical staff will oversee the vaccination process. Every vaccine center will comprise three separate rooms.
Each center will have a vaccinating room, waiting room, and an observation room. After reaching the center, the beneficiaries should wait in the waiting room till their token number comes.
When their token number comes, the beneficiaries will have to go to the vaccinating room and take the vaccine doses. Later, they should take a rest for 30 minutes in the observation room under the supervision of doctors.
The observing room is dedicated to treating the patients if the beneficiaries develop and adverse effects or reactions after taking the vaccine to cure the respiratory disease.