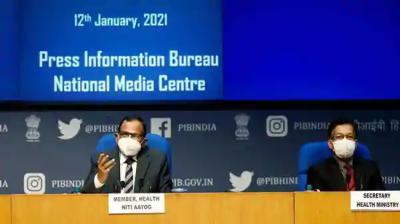 With just days left for the massive vaccination drive which will be launched from the 16th of January across the nation, the Centre cleared all the airs on the vaccines and vaccination drive.
Talking about the effectiveness of the vaccines, Union Health Secretary Rajesh Bhushan said that between two doses, there will be a time gap of 28 days. After 14 days, the effectiveness of the vaccine can be seen.
Answering a question on whether the beneficiaries can pick a vaccine between Covaxin and Covishield to get vaccinated, he said, beneficiaries will not be given such options.
The Union Health Secretary went on to say that, several countries are using multiple vaccines and these countries are also not providing an option to let the beneficiaries pick the vaccines.
Rajesh Bhushan said that, as announced earlier, three crore health workers and frontline workers across the nation will be vaccinated first in the first phase of the vaccination drive.
He has also requested the public to maintain COVID appropriate behavior and said one crore beneficiaries have already registered themselves in the CoWin app