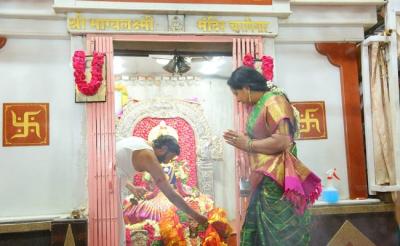 The famous Bhagyalakshmi temple located in the Charminar area became the political junction in Telangana, during the much-talked-about local body elections held for the Greater Hyderabad region.
The temple attracted attention with the leaders of the saffron party Bharatiya Janata Party(BJP) visiting the temple before and after the GHMC elections. The BJP corporators even took an oath in the temple to offer good services to the public.
Now, the temple once again made it to the headlines, with TRS Leader and former MP Kalvakuntla Kavitha visiting the temple and offering prayers to the deity during the wee hours of Wednesday.
Kavitha along with a few other TRS leaders and activists visited the temple and offered prayers to the presiding deity. after praying to the deity, she participated in 'bhogi mantalu' (fire).
Kavitha took to Twitter to extend her wishes to the public in the state on the occasion of Bhogi, one of the widely celebrates Hindu festivals in the state of Telangana.
" May the divine light of this Bhogimantalu brings in a new dawn in the lives of each one us. Praying for everybody's prosperity, good health. Happy #Bhogi", Kavitha's tweet reads.
However, Kavitha's visit to the Bhagyalakshmi temple has led to a lot of speculations, on why she visited the temple, which is said to have her first visit for the Sankranthi festival.
While some people believe that, it might be an attempt to appease the Hindus in the state who are not happy with the government as the TRS leaders are not visiting the Bhagyalakshmi temple.