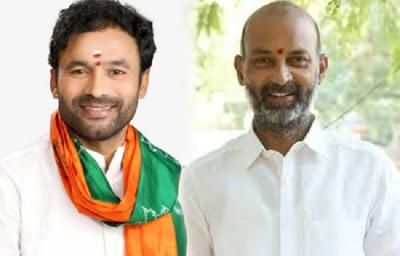 Are differences growing between BJP Telangana state president  Bandi Sanjay and the only minister from Telangana in the Central Government G Kishan Reddy? There are already strong rumours within the party of the differences between the two and the people are talking in hushed tones about Bandi Sanjay's activism overshadowing Kishan Reddy.
Ever since a very aggressive and no-holds-barred Bandi Sanjay took over, the BJP's stars are shining and the prospects on the upswing. He is increasingly being seen as an answer to KCR. Victories in Dubbak and the GHMC have established him as a strong leader. Sources say G Kishan Reddy is unhappy at being completely overshadowed by him. The differences were clearly visible during the Jangaon protests.
While Bandi Sanjay made a dash to Jangaon to protest against the lathicharge on the BJP workers over installing flexi-posters, Kishan Reddy, though in Hyderabad, did not even comment on the attacks. Bandi Sanjay not only went to Jangaon, but also threatened the KCR government with serious consequences.
Soon after his visit, the Government immediately ordered an inquiry into the lathicharge. This is being seen as a massive morale booster for the BJP workers and a victory for the leadership of Bandi Sanjay. As expected, there is still no comment from Kishan Reddy.