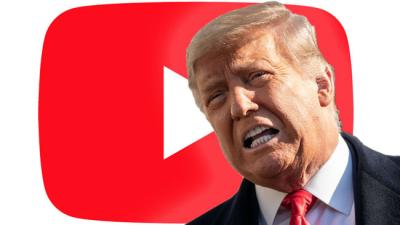 The outgoing United States President Donald Trump continues to suffer from the after-effects of his provocative posts, with the social media platforms restricts his access one after the other.
As a new jolt to Donald Trump, the American online video-sharing platform YouTube announced that it will block the channel of Donald Trump for not less than seven days.
In addition to this, Donald Trump's YouTube channel was suspended temporarily and the comments section of the YouTube channel was also disabled.
The video-sharing platform took to Microblogginsgite Twitter to share the news of temperately suspending the YouTube channel of Donald Trump over the ongoing potential for violence.
"After review, and in light of concerns about the ongoing potential for violence, we removed new content uploaded to Donald J. Trump's channel for violating our policies. It now has its 1st strike & is temporarily prevented from uploading new content for a *minimum* of 7 days," YouTube's tweet reads.
Donald Trump faced a severe blow with the Microblogging site Twitter clamping down his account temporarily on the allegations of reportedly calling for violence which is against Twitter's policy.
After Twitter, Facebook, Instagram, Twitch, and Reddit accounts of Donald Trump were also temporarily suspended due to the New York effect which shocked the United States.