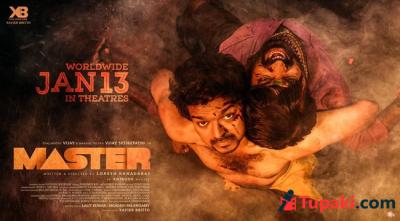 Movie Name: 'Master'
Actors: Vijay, Vijay Sethupathi, Malavika Mohanan, Arjun Das, Shantanu, Gouri Kishan and others.
Music: Anirudh Ravichander
Cinematography: Sathyan Sooryan
Dialogues: Rajesh Murthy
Producer: Xavier Britto
Story-Screenplay-Direction: Lokesh Kanagaraj
Tamil star hero Vijay is slowly but steadily establishing himself as a minimum-guarantee hero in Telugu market. To strengthen his market further, he is coming along with talented hero Vijay Sethupathi this time. They both play the hero and villain in the most-anticipated film 'Master' which is hitting the screens today. Young sensation Anirudh Ravichander composed the music while Lokesh Kanagaraj directed this mass entertainer. Let us see how the film turned out.
Story
JD (Vijay) is a psychology professor who is liked by the students but hated by the professors. He forces the college administration into conducting the student body elections and the principal agrees to it on one condition. He asks JD to walk out of the college if any fights happen. Though everything goes smoothly, a huge brawl happens after the elections which makes JD to leave college.
He joins a juvenile observation home as a teacher and soon finds out that a criminal named Bhavani (Vijay Sethupathi) is using the juveniles in his own crime business. JD has to keep the juveniles in order and get rid of Bhavani who is the cause of all the problems. How he does it forms the rest of the story.
Analysis
There is always an advantage in working with mass heroes. There is no need to work too hard on a story and try for something new. If you give his fans something interesting with good emotions, mass moments and good songs along with entertainment, you end up getting a big hit. If presented properly, you finding yourself with a blockbuster in your hands. If looked from this perspective, 'Master' is likely to impress the Tamil audience as Vijay is a superstar there with a humongous fan following. There are ample moments in this film for his fans to cherish and whistle heartfully when they watch it on the big screen.
But Vijay is not a star hero here which makes us search for an engaging script and this is where the problem arises. All the above-mentioned commercial elements doesn't workout here as you are not that emotionally connected to the star Vijay. This turns out to be the major problem in 'Master'. Young director Lokesh Kanagaraj who impressed everyone with his arresting narration in 'Khaidi' has changed his route completely and made a film that caters to Vijay's fans. He made a complete commercial film and got stuck in the image of Vijay. His mark is only seen in the characterisation and presentation of villain's role but the rest of the film feels a bit routine.
Despite going in a routine format, the first half entertains the audience but the latter part decreased the impact. The film starts off on an interesting note with the introduction of villain. The evolution of Vijay Sethupathi's character since childhood is presented brilliantly but the film falls into the routine trap once hero comes into the picture. After some partly entertaining college scenes, the film takes a serious turn after the hero enters the juvenile facility. The interval scene is surely one the major highlights of this film and sets the stage perfectly for the second half.
But the second half offers nothing new and runs on a predictable note. All the things hero does to challenge the villain doesn't engage the audience, The hero and villain does confront each other till the climax which is a huge gamble taken by the makers. Though their final scene impresses the masses, the normal audience who lost interest by then doesn't feel the same way.
'Master' is the perfect example of what happens when a talented young director falls into the trap of a star hero's image and stardom.
Performances
Vijay looks quite energetic on-screen and pleases his fanbase with his typical style and mannerisms. He looks quite stylish in the film and does what is expected from him. It is to be seen how far the Telugu audience connect to him in 'Master'. Malavika Mohanan is beautiful and plays her part. She doesn't have too much to do in this commercial film. Arjun Das who acted as a prisoner in juvenile home impresses with his acting but it is Vijay Sethupathi who steals the show completely. He dominates everyone with his screen presence. He shows cruelty despite being subtle and simple. His character is also designed well.
Technicians
Young sensation Anirudh once again proves that he perfectly knows how to satisfy the fans with his background scores. Though it may be loud at times, he elevated a lot of regular scenes and impresses the masses. He even gave some chartbuster tunes like 'Vaathi Coming' and 'Kutti Story'. Sathyan Sooryan's cinematography is terrific. He usage of colours his really interesting and brings a lot of impact to this movie. The production values are top-notch. The dialogues and dubbing voice could have been better in a lot of portions.
Lokesh Kanagaraj who made his mark with 'Khaidi' has faltered with 'Master'. He gave a lot of importance to the story and narration made sure that the elevation scenes are integrated in it but working with star hero like Vijay made him to change his style which didn't work out. He showed his talent in presenting the villain but falls to the commercial trap eventually.
Verdict
More of a Vijay's film than a director's movie.
Rating: 2.25/5