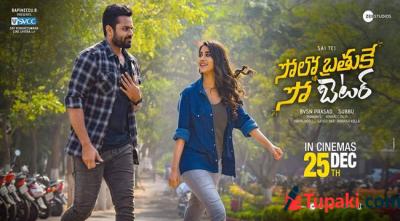 Movie Name: 'Solo Brathuke So Better'
Actors: Sai Tej, Nabha Natesh, Rao Ramesh, Vennela Kishore, Naresh, Rajendra Prasad, Satya, Sudarshan, Jhansi and others.
Music: Thaman
Cinematography: Venkat C Dilip
Producer: BVSN Prasad
Writer-Director: Subbu
'Solo Brathuke So Better' is the first Telugu film that is releasing in theatres post the lockdown. Sai Tej is the main lead in this romantic comedy which is written and directed by debutant Subbu. The film created a good hype with its attractive songs and teasers. Let us dive into the review and find out how it turned out.
Story:
Virat (Sai Tej) is against marriage due to a couple of reasons and decides to remain solo. He even keeps influencing the girls and boys around him to avoid marriage and stay single by starting a group called 'Solo Brathuke So Better'.
After a while, his thought process changes and loves a girl named Amrutha (Nabha Natesh). But Amritha is inspired by Virat's 'Solo Brathuke So Better' philosophy and stands against marriage. How the protagonist changes her mind and marries her forms the rest of the story.
Analysis:
There are a lot of jokes on marriage in social media but it is mostly made by the people who are married. They are fine to laugh for some time but getting married is a part of the life cycle. R Narayana Murthy who did not marry all his life too advised the youth to get married. 'Solo Brathuke So Better' revolves around this point and gives a good message.
But the director failed to convey this message convincingly. He managed to entertain the audience in the first half but failed to do so in the latter part. There are a few scenes that create a good impact but the film ends up being average on the whole. The film has a smooth flow when the hero tries to spread his solo philosophy to his friends and family. These entertaining parts were included in the promotional stuff and it attracted the audience.
With entertaining scenes of Sai Tej and the comedy gang, the film impresses you. Especially, Vennela Kishore's scenes will bring the house down and the interval twist too was delivered convincingly. But the real test for the director begins in the second half and he falters a bit there. Despite Rao Ramesh's touching performance, the hero changes his mind in one single scene which isn't convincing. Though the comedy bits entertain you here and there, the story fails to move forward and becomes stale. Despite being a romantic comedy, the heroine's character has very less screen time.
On the whole, 'Solo Brathuke So Better' starts on a promising note but falls flat as time passes by. It is a decent watch in theatres but fails to create a lasting impact.
Performances:
Sai Tej looked good in this film and gave a decent performance. He was at ease during the comedy scenes but he didn't have any tough scenes that challenge his acting capabilities. He gave an energetic performance. Nabha Natesh looked cute but she doesn't have much to do in this film. She comes at the end of the first half and plays the regular heroine whose job is to light up the screen every time she turns up.
Rao Ramesh's character is designed well and he gave a fantastic performance. His acting definitely touches you during certain scenes. Vennela Kishore tickles your funny bones and stands out from the rest of the comedians. Naresh was okay and so were Satya and Sudharsan. Rajendra Prasad was a bit over the top. The rest of the cast were fine.
Technicians:
Thaman's music stands out. He gave a few memorable songs and gave a decent background score too which elevates the proceedings. Venkat's camera work is impressive and the editing is okay though a few scenes in the second half could've been trimmed. The art department did a decent job and the production values were adequate.
Coming to writer-director Subbu, he walks out with average marks. He shows his worth in the dialogue department and he dealt the comedy scenes of the first half in a confident manner. But he wasn't able to maintain the same flow of narration throughout. Had he taken better care of the second half, the film would have turned into a good entertainer.
Verdict:
'Solo Brathuke So Better' - So So...
Rating: 2.5/5