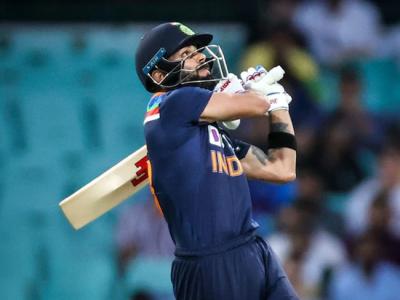 Indian skipper Virat Kohli, who is hailed as 'Run Machine' by cricket analysts added one more record to his kitty. He has broken the record held by batting maestro Sachin Tendulkar.
In the third ODI against Australia in the ongoing Aussies series, Virat Kohli breached the 12,000 run mark in the fifty overs format. He is the fastest batsman to reach the record. Batting maestro Sachin Tendulkar took 300 innings to get 12000 runs in ODI format, while Virat took only 242 innings to reach the milestone.
The record of the fastest batsman to make 10,000 and 11,000 in 50 over formats is also under the name of Virat Kohli. He took fewer innings to break these two records.
The Indian skipper took 205 and 222 innings to breach the 10000-run mark and 11,000-run mark respectively in the 50-over format.
Virat Kohli made his debut in the ODI format in 2008 against Sri Lanka. Since then, he went on to make many records across the formats. Analysts often compare him with the 'God of Cricket' Sachin Tendulkar. In his decade over career, he made 43 centuries and 59 half-centuries in the ODI format.
His heroics of 89 runs in the second ODI against Australia didn't help in guiding the Indian team towards a win. Despite the heroics of Kohli and KL Rahul, India suffered a 51-run defeat.