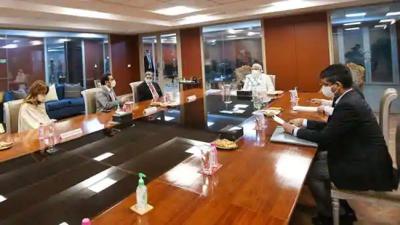 As announced earlier, Prime Minister Narendra Modi has visited three vaccine manufacturers in the country to overview the vaccine production process and distribution plan.
He kickstarted the three-city-plan today by visiting the Zydus Biotech vaccine facility in Gujarat's Ahmedabad. Later, he visited Hyderabad's Bharat Biotech and Pune's Serum Institute of India(SII).
PM Modi spoke with the developers at the vaccine fatalities and told them how eagerly the country is waiting for the vaccine. Modi also sought suggestions from them on how about distributing the vaccine.
Narendra Modi was briefed about the vaccine development process at the three vaccine fatalities in Ahmedabad, Hyderabad, and Pune respectively.
In a series of tweets, Narendra Modi shared his experience of visiting the vaccine facilities and getting brief about the vaccine production development in the three plants.
Three vaccines are in the manufacturing stage in India to cure the pandemic. One is Covishied in Pune's SII. SII joined hands with Oxford University and pharma giant AstraZeneca for the vaccine. The second stage of vaccine trails has started in August.
Hyderabad-based Bharat Biotech is developing Covaxin, a vaccine to cure the pandemic. The vaccine is being developed as a collaboration between Bharat Biotech and ICMR.
The indigenous vaccine which is being developed by the Pharmaceutical giant Zydus Cadila Ltd based out of Gujarat's Ahmedabad has entered the second phase of the clinical trial.