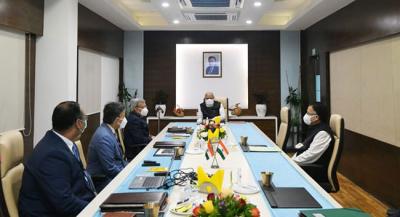 When the country is eagerly waiting for the vaccine to cure the Coronavirus pandemic, Prime Minister Narendra Modi announced a three-city visit to monitor the Covid-19 vaccine development process.
Narendra Modi started his three-city visit by visiting the Indian pharmaceutical Zydus Cadila's plant headquartered in Gujarat's Ahmedabad today.
PM Narendra Modi wore a PPE kit and inspected the vaccine being developed by Zydus Cadila. He has spent one hour at the Ahmedabad plant. He complimented the team at the plant.
ANI shared a video in which PM Modi can be seen visiting the facility. An official from the plant accompanied Narendra Modi while he visited the facility.
As per the schedule, PM Modi will visit the vaccine facilities in Hyderabad's Bharat Biotech and Pune's Serum Institute of India today to overview the vaccine developments.
"Visited the Zydus Biotech Park in Ahmedabad to know more about the indigenous DNA based vaccine being developed by Zydus Cadila. I compliment the team behind this effort for their work. Government of India is actively working with them to support them in this journey," PM Modi's tweet read.
His visit to Zydus Cadila's vaccine facility came a week after he chaired a meeting with Chief Ministers of severely hit states in the country with the novel Coronavirus outbreak.