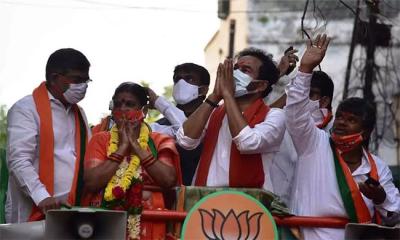 The BJP is gearing up for the upcoming GHMC elections with Dubbak's election josh. From state leaders to Central leaders, the party is exploring all the possible options to attract the voters.
As part of the election campaign for the civic body polls, BJP leader and Minister of Home Affairs of India G. Kishan Reddy did a roadshow in some parts of Hyderabad on Friday.
More than his roadshow, the police personnel deployed for his campaign is making headlines. Usually, in every roadshow, the public will be more numbers and the police will be in less number.
But Kishan Reddy's roadshow has more police personnel than the public. In some areas, the public count is very less than the police count. This forced the Minister to skip meetings in some areas.
As per the schedule, Kishan Reddy did roadshows in Kacheguda, Nallakunta and Golnaka, and other areas. Later he joined the roadshow of BJP's national President JP Nadda.
It is believed that Prime Minister Narendra Modi is all set to campaign for the upcoming GHMC elections. PM Modi is visiting Hyderabad today to monitor the Covid-19 vaccine development.
If Modi campaigns for BJP, the party's chances to win the local body elections will increase certainly. Earlier, MPs, Ministers, and Union leaders have campaigned in the city.