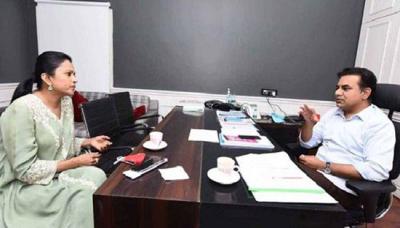 You've seen film stars giving interviews to YouTube and social media channels to promote their films. Earlier they were using the TV medium to promote films. Now, social media have been added. This is due to the growing influence of social media on the people, especially those in the urban areas.
Now even politicians are vying to give interviews to social media. Taking cue from Dubbak MLA Raghunandan Rao, who first gave interviews to several pro-BJP social media channels to connect to the youth in the big way, TRS working president KTR too is giving interviews to YouTube channels.
And for this he has chosen none other than the flashy yet mature Suma Kanakala. Hugely popular for her sprightly anchoring and powerful repartee, Suma has recently launched a YouTube channel, where she is interviewing celebrities. She has just interviewed KTR, where leadership qualities of the heir apparent were highlighted. Many politicos hare already said that this is an election campaign tactic and the aim is to project KTR among the youth. In a tweet, Suma also praised his leadership abilities.
One thing is clear. Social media is fast emerging as a better influencer than the TV media. More and more politicians are reaching out to the social media in a big way.