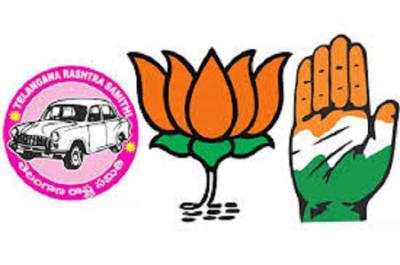 Is the BJP playing a mind game with the TRS? Ever since the GHMC election scene began hotting up, the BJP is trying to create confusion in the ranks of the TRS. Its leaders are making rounds of the disgruntled TRS leaders from the BC communities and are sending out signals that these leaders are all set to join the BJP.
For instance, the BJP leaders went to former council chairperson Swami Goud's residence and held discussions with him. This gave rise to speculations that Goud is all set to join the BJP. Though Goud said that he was not joining the BJP, the doubts continue to linger and the TRS is now unable to trust him. This is alienating the BC sections from the TRS. Ditto with the Congress leaders. The BJP leaders went to Congress campaign committee chairperson Vijayasanthi, former union minister Sarve Satyanarayana, former MP Konda Vishweswara Reddy and others.
Though none of them except Surve Satyanarayana have so far joined the BJP, the Congress has dropped them from the list of its star campaigners. This is actually turning out to be an advantage for the BJP as these powerful crowd-pullers are not campaigning. The BJP sources are now sending feelers that several TRS top leaders too would soon join the party. All this is serving to add to the confusion.