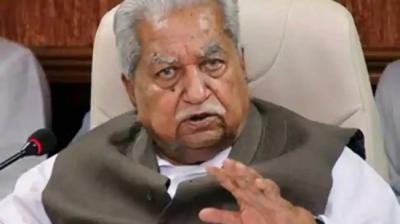 Former Gujarat Chief Minister and veteran Bharatiya Janata Party(BJP) leader Keshubhai Patel passed away at a private hospital in Ahmedabad at the age of 92 years.
It is believed that though the former Chief Minister managed to beat the pandemic. The virus has affected his health and his health condition continued to deteriorate further.
Media reports claimed that Keshubhai Patel was rushed to a private hospital in Ahmedabad on Thursday morning with his health condition deteriorating. The doctor's efforts to save him went in vain.
Keshubhai Savdasbhai Patel has served as Gujarat CM for two terms. In the first term, he served a few months in 1995. Later, from 1998 to 2001 he served the state.
After some disputes with the party leaders, he bid goodbye to BJP and floated his own party Gujarat Parivartan Party which failed miserably in the 2014 elections. Later, it was merged with BJP.
The Honorable President of India Ram Nath Kovind, Prime Minister Narendra Modi, and Defence Minister of India Rajnath Singh condoled the death of the veteran.