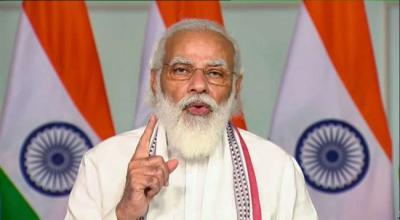 Amid growing controversy over which state will get the Covid-19 vaccine first after the free vaccine promise made by BJP in Bihar, Prime Minister Narendra Modi cleared all the airs.
Speaking to a popular media outlet, the Prime Minister said once the potential vaccine is manufactured, every citizen will be vaccinated and assured that no citizen will be left out.
Narendra Modi said that once the Coronavirus vaccine is available, each and every citizen in the country will be vaccinated. However, he maintained that the most vulnerable and frontline workers will be given more focus.
'28,000 cold chain points will work in the process and will distribute the vaccine. The teams at various levels will ensure that the vaccine distribution is carried out systematically," PM Modi was quoted by reports.
Referring to the pandemic as vacillating, he quoted the examples of Kerala which managed to combat the virus in the initial days of the virus outbreak, witnessed the second wave of the virus.
He stressed the importance of following Covid-19 precautions like wearing a mask, washing hands, and maintaining a distance of Do gaj ki doori(two yards of distance) outdoors.
Coming to clinical trials of the Coronavirus vaccine in India, three vaccines are very close to the vaccine. While 2 vaccines are in the 2nd phase and one phase is in the 3rd Phase.
On Thursday, India witnessed as many as 49,881 new cases, which pushes India's caseload of the pandemic to over 80 lakh mark. So far, a total of 120,527 patients have succumbed to the contagious disease.