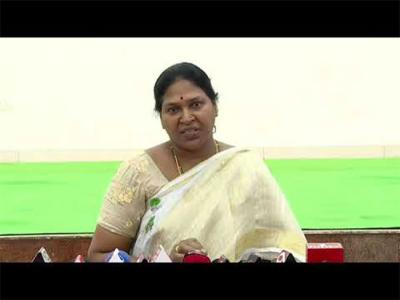 The opposition Telugu Desam Party(TDP) faced a brutal shock after MLC Pothula Sunita resigned from her post. She has sent her resignation letter to Andhra Pradesh Legislative Council Chairman.
'I am not happy with Chandrababu Naidu and Lokesh obstructing the welfare schemes announced by the government for BC, SC, ST, and other communities. I resigned from the post to stand with YS Jagan Mohan Reddy for the welfare of the minority communities,' media reports quoted Sunita.
Pothula Sunitha who contested the 2014 elections on a TDP ticket from Cheeral constituency lost the elections. TDP party made her a member of the Andhra Pradesh Legislative Council.
However, Sunitha has supported the Ruling YSRCP being a TDP MLC that irked the party. The TDP has raised a complaint against her at the upper house to disqualify her from the post.
The inquiry over her disqualification is underway. All of a sudden,m she surprised everyone by resigning from her post. It's interesting to know how the TDP responds to it.