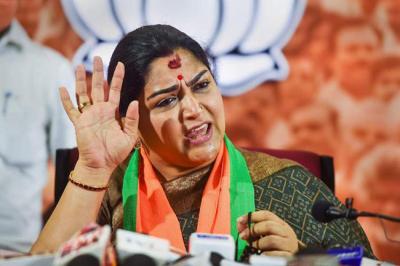 Is another yesteryear female superstar following the footsteps of Tamil ex-superstar Khushboo? It appears so. Vijayasanthi, who like Khusbhoo, attained iconic status in Telugu films with her power-packed performances, is all set to join the BJP. We have been predicting for some time that she has been inching close to the saffron party.  This prediction is all set to come true.
On Monday, both Vijayasanthi and Union Minister Kishan Reddy were closeted for over one hour to discuss the latest political scenario in the state. Though currently the TPCC campaign committee chairperson, Vijayasanthi is nowhere to be seen in the Dubbak bypoll campaign. Vijayasanthi has been sulking for quite some time over the Congress party not giving her importance. She did not even attend the party meeting that the new party affairs incharge Manickam Tagore called for. Tagore specifically sent her an invite, but she chose to stay away.
After Monday's meeting, the speculations of her leaving the Congress have heightened. Though Vijayasanthi has said that she will think over the BJP proposal, sources said that Vijayasanthi always had a soft corner for the BJP and might soon join the party.