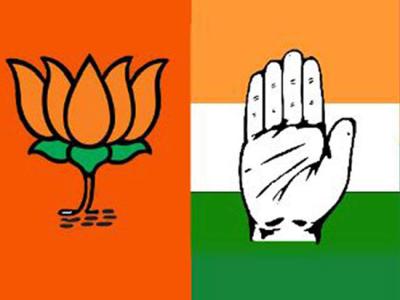 What is the reason for the new-found belligerence in both the Congress and the BJP? Both the parties are working very hard in the run-up to the Dubbak bypoll. They have deployed all their resources and manpower for the bypoll. This hasn't happened in the past. In Huzurnagar bypoll, the BJP was a non-player and the Congress fought a half-hearted battle.
But, in Dubbak, both the parties are putting their heart out in the campaign. They are working very hard to woo the voters. The leaders and the cadre are seen working out strategies to win their confidence. Political pundits feel that the people's disenchantment with the TRS has begun and despite their massive victories, there is a growing disquiet with the governance. Both the BJP and the Congress want to cash in on this. So, they want to present themselves as a credible alternative to the TRS.
It is to emerge as the alternative to the TRS that the BJP and the Congress are working in Dubbak. Even if they lose the elections, each party wants a respectable chunk of votes and stand a strong second. Both the parties are trying to reduce the winning margin of the TRS. So, the real fight is not for Dubbak. It is for the elections that follow such as the GHMC and MLC elections. More importantly, the focus is on 2023, when the assembly elections are held.